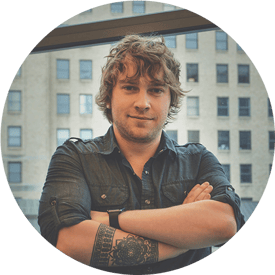 I recently watched a webinar "The Importance of Design and Marketing Collaboration" (watch here) with Dan Slagen, the VP of Marketing at Crayon, and I felt compelled to write about the crucial relationship that exists between the two. I was mainly inspired by this talk because as a Pepperjam designer, I represent half of this relationship. Fortunately, we're pretty good at running things smoothly internally, but traditionally, hiccups boil down to one oversight: we need to start focusing on collaboration between teams where it historically hasn't happened.
To bridge any disconnect between teams, we need to actively open up lines of communication and collaboration. Designers and marketers must know the other's goals to ensure they share a mutual vision. As Dan said, "design without marketing sucks" and "marketing without design sucks", and he's got a solid point. When teams are working together yet aren't properly aligned, neither team wins, which means the unified team certainly won't benefit. Design needs marketing and vice versa. We're supposed to be working together to create amazing experiences for our current and potential customers.
However, this disconnect isn't any one team's fault—we're each trained to think a certain way and to look for certain things—and these areas of focus aren't always the same. Let's take a webpage for example. Designers naturally tend to look at the page's hierarchy, the purpose of that page, the emotions being invoked and the overall experience of the site visitors. Marketers on the other hand, may be more inclined to look at the content, how the page converts, how it moves customers through the funnel and how it communicates the brand's tone. But if we look at them together (which is the secret sauce), we see that they're not that different after all—it's just a matter of how each is communicated. We're essentially looking to solve the same questions: what is the strategy behind the content and its hierarchy, what is the purpose of this page, are we successful in measuring that and how does the brand tone make the visitor feel?
So, here's the situation we're sometimes left with: two teams that work closely together and have similarly aligned goals but still have communication issues. So, how do we solve this problem? I think the solution lies in rethinking how we communicate, not just what we communicate. Once we know how to start communicating effectively, we can discover that we have the same end goals, albeit different aspects to focus on along the way.
We all know that performance is king, so what would happen if we applied this concept when it comes to design and marketing working together? The key lies in how we can improve our communication performance. The one example that came up in this webinar that really excited me was looking at the creative brief process. A creative brief is a piece of the puzzle between the design and marketing teams working together. While we're at it, why don't we start looking further than the creative brief or at least rethink how those briefs are communicated? The creative brief doesn't have to be a long, complicated process that is just as stressful for the person reading it as it is for the person writing it.
Think about a creative brief that includes pictures and examples of other designs that the marketing team saw but doesn't exactly know how to communicate. That could be a game-changing addition to the creative brief process and ensure streamlined communication between the two teams. Creating the ability to type what you're looking to accomplish and then illustrating that point with imagery is a perfect way of enhancing overall communication performance. It helps the two teams become one with a better chance at successful results.
So that's one way of how streamlined communication can help the designers, but what about a way of communication that can help the marketers? Let's use website conversion goals for this example. Having goals for individual pages on your website with measurables and new testing plans in advance, gives you time to share that with the design team. Keeping designers looped into this can help them design pages to convert better based on your idea for the upcoming year. What is the goal of each page and how can designers help you reach that goal? Both sides need to know what the future plans are in order to measure and reach their goals.
So what's the takeaway here? Help each other clearly understand what you want, how you see the most efficient way there and then test and communicate what is working and what isn't. Wherever possible, use data to do that. If you communicate your goals and use data to tell you which direction you should be going, everyone will be on board with the next steps to take.
Both teams knowing each other's methodology and information can help conversion. If you still find teams miscommunicating, host lunch and learns with each other and just talk about how designers and marketers think. When you think about performance marketing or performance design, take it one step further and look at the real equation: design + marketing = performance.