Pepperjam holds offices across the country, which makes it more challenging to meet face-to-face especially when you work in different time zones. But as a company that takes a genuine interest in employee development and unifying our culture, when the opportunity to institute an employee exchange program came along, I jumped on the chance by traveling from the west to east coast to swap offices for the week.
My trip sent me to two of our east coast locations: Wilkes-Barre, PA, and Philadelphia, PA, and afforded me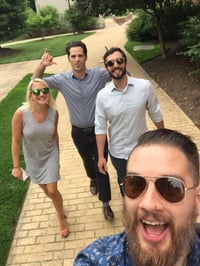 the opportunity to cross-pollinate offices with different subcultures to develop a more cohesive company culture. I had the chance to get some quality face time and build stronger relationships with the peers I typically only interact with over the phone and desktop each day. I was also able to uncover opportunities that can help me improve communication between teams and departments.
Perhaps the most important takeaway from my trip was the fact that I work for a company that provides this type of opportunity for my own professional and personal growth.
Overall, my experience was well worth the jaunt and I'd welcome a repeat visit anytime!
Does this sound like the kind of culture you're looking for? If so, we may be looking for you! Check out Pepperjam's current open positions here.