In 1999, when Pepperjam CTO Greg Shepard first started working in e-commerce, the internet was a completely different environment. "Back then, there were no publishers," he says. "Coupon and loyalty sites didn't even exist."
Almost two decades later, he got a surprising first-hand look at how much the industry had changed.
"Last year, I decided to run a marathon. I weighed 275 pounds and used to be a bodybuilder, so my wife thought I was crazy, but I really got into it. I started researching, watching videos, and reading blogs," Greg said. "The people who created that content were very knowledgeable, and I respected them. Some didn't have more than 5,000 followers, which meant they actually had conversations with individual fans. When they recommended which shoes to wear, which headphones to use, which fitness tracker to try, I trusted them."
It was an up-close and personal look at something he had seen in his analytical work. Greg knew that nearly 50% of consumer type-in searches start at Amazon and many online retailers feel like they can't compete with that.
"But influencers, like the people I turned to when I wanted to learn about running, they're advertising's holy grail — they don't only tell customers what to buy, they tell them where to buy it," Greg said.
Pepperjam understands how much the internet economy has changed over the last 20 years. More than ever, it's important that retailers understand exactly who drives purchases. And, with Pepperjam analytics tools, they can organize advertising budgets to deliver the best possible return on investment.
Old Technologies Overpay Publishers/Influencers Who Take Advantage of Antiquated Systems
"Everyone knows that the 'last-click' model is flawed," says Greg. "If you study customers' click-streams, it's clear that their last clicks isn't the only action that drove them to make a purchase."
More consumers make buying decisions based on influencers' recommendations, but many aren't going straight from influencers' sites to a product page. Instead, they're making in-between stops at what Greg calls "traditional affiliates publishers / influencers, once known as affiliates," or loyalty and coupon sites, where they try to find a discount or two.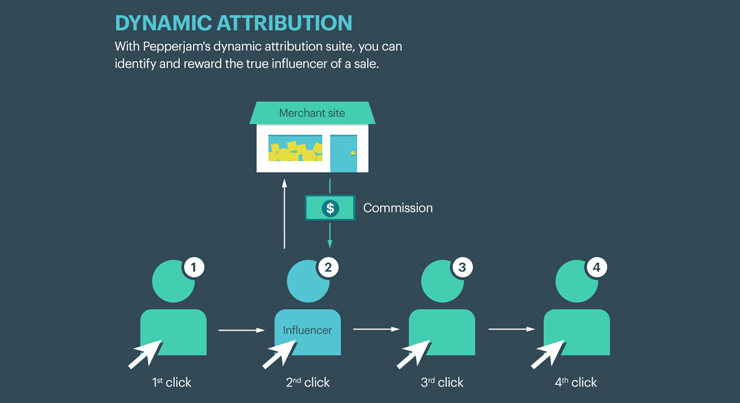 In other words, last-click payment models dole out the lion's share of advertising budgets to sites that have minimal impact on a sale. "The influencers know this. They realize they're getting bilked out of their commission, so they ask for placement fees," Greg said. "And then they start charging thousands of dollars on top of what retailers already have to pay the traditional publishers/influencers."
But most advertising technology hasn't adapted to this new landscape, which means too many retailers are rewarding publishers or influencers that don't add value to buys, while alienating the influencers who have the biggest impact on customer purchases.
Pepperjam Solutions Ensure Top-Performing Publishers (or Influencers) are Recognized
To solve this problem, Pepperjam rebuilt its platform to connect retailers and brand advertisers with the highest-performing publishers. But it didn't stop there. The company provides a holistic solution for internet marketers to accomplish seven goals.
Attribute Publishers or Influencers Correctly
"When we saw that technologies attributed purchases to traditional publishers or influencers who didn't drive clicks, we built a new in-cart attribution system," Greg said. The system's algorithm recognizes when a customer decides to buy, opens a new tab, and returns a minute or two later with a code. It understands consumer behavior well enough to know which publishers actually drive traffic and attributes purchases to the true influencer of the sale that add value — not whoever lucks into the last click.

"But sometimes, that code actually did drive the click," Greg said. "Even then, there can still be problems. Many publishers crawl sites and steal codes. The system gets abused." To stop this behavior, Pepperjam developed Exclusive Code, a solution that rewards the publisher who has the exclusive rights to the code and no one else.
Pay Publishers or Influencers What They're Worth
Not all publishers/influencers are identical. They drive different amounts of traffic and create different order values.

"A blogger with loyal followers who writes a 500-word post is totally different than someone who posted a coupon to their site," Greg says. "So why would you pay them both the same?"

Pepperjam devised a solution with its Dynamic Commissioning — a payout structure that rewards publishers/influencers at a deeper level than merely referring a sale. Dynamic Commissioning powers advertisers to commission higher on particular items or categories, new vs. existing customers, mobile vs. desktop, higher order values and more. This ensures that high-performing publishers/influencers who add value to individual transactions and grow customer bases get paid what they've earned.
Track Traffic Accurately
"The tracking environment is broken. There are omnichannel problems, in-store problems, cross-device problems, app-to-app issues, in addition to people who delete cookies and block ads. It's a complete mess," Greg said.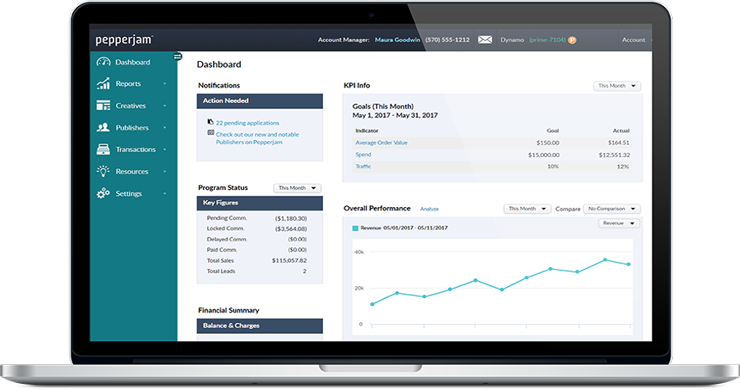 Pepperjam allows companies to track where customers are coming from and reward the correct affiliate across channels
Pepperjam built its tracking system from the ground up to take into account all of these developments. The company calls the new aggregation Dynamic Attribution, and it's accurate across channels. The system has already helped companies succeed, driving retailer growth of up to 509%.
Merge and Automate Compliance Processes
Between domain compliance, search compliance, checking social media, and monitoring objectionable content, it's easy to be overwhelmed by so many demands.

"Our network prioritizes quality for our brands allowing them to maintain a clean image in a channel that relies on third-party promotion. We are aware of the terms, conditions, and policies advertisers set in their programs and audit publisher content against brand expectations. It winnows compliance down, so our clients only see actual violations, not thousands of false positives. We utilize these violation notifications to rehabilitate partnerships, preserving advertiser revenue. It takes a complicated process and makes it simple," Greg said.
Find the Best Publishers
With a solution called The Optimizer, Pepperjam created a way to quickly and efficiently recruit the right publishers. When clients come on board, they create a profile that automatically matches them with compatible partners, reducing an hours-long process down to seconds.

"It's easy. The client says, 'Hey, I want this.' And we say, 'Here it is,' serving up tailored recommendations that match a brands' specified metrics," Greg said.
Merge Reporting into the Process
Because reporting has become its own industry, developers have created countless analytics, big data, and business intelligence tools.

"Other networks are trying to build their own reporting tools, which is a mammoth business unto itself," Greg said. "So we simplified the process and partnered with Qlick. Clients can access our big data, slice it, dice it, and create any report they want so they can focus on critical elements of their program — optimization and strategy. Now, they don't have to create spreadsheets or hassle anyone for information. It's all right there for the taking."
Everything in One Place
For the first time, the entire Pepperjam system is available on a single dashboard. "The best part is, we're enhancing it day to day," Greg said. "We've given our clients the entire ecosystem in one product stack, underneath one network. And we're the only people who do that."
Helping Companies Avoid "Analysis Paralysis" and Think Long Term
The e-commerce industry is light years ahead of where it was in 1999, but retailers are still feeling overwhelmed by new technologies. It can be difficult to know which solutions actually create value, and which ones crunch data without adding anything to the bottom line.
"Entrepreneurs make more and more tech and, too often, they try to solve problems without looking at long-term ramifications," Greg said. "It creates analysis paralysis. People are so overwhelmed by multi-channel analytics and big data that they end up doing nothing at all."
Greg argues that the industry can actually be quite simple, as long as businesses focus on the long-term benefits for everyone — brands, publishers, and agencies.
"Imagine if you owned a store in a mall. Your business partner brings a new customer into your store, and that customer decides to make a purchase. But then, after they've made their decision, they run into someone they know at checkout who offers them 5% off, and who then turns to you, the store owner, and demands you also give them 5% of what you made from that customer's purchase. That's crazy," Greg said."
That's why Pepperjam exists — to fix a problem that has plagued online retailers for far too long and put revenue back in the hands of those who drive conversions.
This article originally appeared on DealCrunch.com. Learn more about them today!