Google is at it again, recently announcing two-page speed updates to their official webmasters blog, as seen below.
Page load time will be a ranking signal for mobile search results around July of 2018.
Google Page Speed Insights tool has updated to analyze mobile page load time differently.
Google publicly announced they were beginning their mobile-first index project back in November of 2016. This project sets out to reconfigure Google's organic ranking algorithms so that they are base ranking from how the landing page renders on a mobile device. Currently, Google's algorithms base rank from the desktop version of each landing page and this project aims to shift that.
There have been no public announcements that the mobile-first index is rolled out yet. However, the recent page speed blog post is an indication that they are likely shooting for a July 2018 timeline with mobile page speed being a ranking we will all need to consider.
Something to pay attention to...
Pay close attention to two new metrics Google added into the page speed insight tool. The new metrics are First Contentful Paint (FCP) and DOM Content Loaded (DCL).
These metrics were added into the speed scoring tool and then a week later Google announced it will use mobile page speed in its algorithm. However, for this SEO, it feels a little too coincidental that these updates were released so close together. An update to the page speed scoring tool and an announcement that page speed will be used in the mobile organic algorithm.
Our read on it is that Google will likely use both of the metrics the new page speed insight score is measuring in the organic mobile algorithm.
As Dave Capone, SEO Director of Fanatics, reminded me, "when it comes to learning the truth behind Google's algorithm updates we need to remember that sometimes the best way to keep a secret hidden is to hide it in plain sight."
What are the new page speed insight metrics really measuring?
First contentful paint (FCP): FCP measures the first piece of content that is displayed on the screen for your visitor. GTM Metrix explains it simply in their post.

DOM Content Loaded (DCL): DCL measures when the html document has been loaded and parsed, without waiting for stylesheets, images and subframes to finish loading. Simply put, the code has all been loaded without any other obstacles standing in the way for the visitor.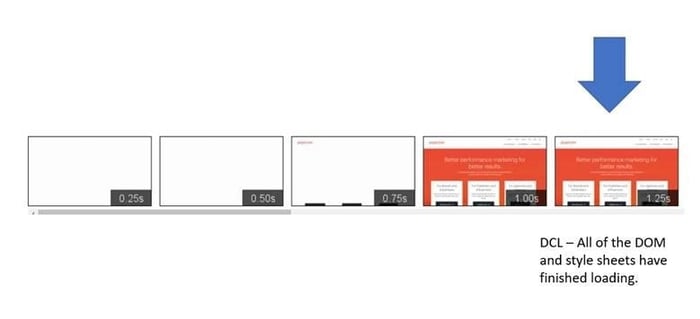 What can you do to ensure your pages are ready for July's mobile algorithm update?
Use the new page speed insight testing tool. Simply paste in the url you would like to test and read through Google's recommendations for how to improve your page speed.
Click the link at the bottom of the page speed insight tool's page to "download optimized image, JavaScript, and CSS resources". It will look like this:

This download link will contain a zip file with all the compressed files that Google has informed you about in their recommendations. Simply switch your existing version for the compressed version in the zip. These compressed files will help you improve your score and potentially assist with outranking competitors.
Watch the video recap of our Page Speed Insight Optimization webinar. This will help you learn exactly what each page optimization recommendation means as well as how to fix each of them.
If you have any questions about this Google update or would simply like to chat about any of our other SEO tips, don't hesitate to reach out to me at sweber@pepperjam.com.