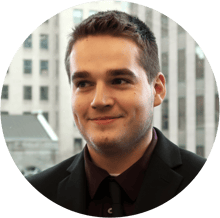 Pepperjam seeks to work with college students who are looking to experience a real-life, hands-on internship that will adequately prepare them for what awaits after the cap toss. And we certainly appreciate all the dedication that accompanies the challenge of supporting such a diverse performance marketing team. Our Intern Spotlight series sets out to learn from and celebrate our interns and their successes.

In this installment, we sit down with Penn State's, Ryan Werts.
Where do you call home, originally?
I call the Wilkes-Barre area my home. I have never lived more than 15 minutes away from Wilkes-Barre for an extended time. I grew up in Plymouth, and now I currently live in a small town called Forty-Fort.
You chose to stay local and close to your roots while you attend college and fulfill your internship goals. Can you elaborate on what makes your hometown special?
In terms of my career, I found that this area can fulfill all my current professional needs. Aside from my career, I have a lot of family that lives in this area and I'm happy to be close to them and be able to support them however I can. In terms of the future, I'm not sure if I plan on staying in this area or if I will move elsewhere, that depends on the opportunities presented to me.
Why did you choose Penn State University?
I was determined to go to Penn State ever since I was a kid and I've always believed Penn State would provide me opportunities to find success. With the exception of spending one semester at University Park, I've spent the rest of my college career at Penn State-Wilkes-Barre. That semester I attended University Park gave me some time to gain experience in a bigger university setting. I will be graduating from Penn State this May.
Did you always want to study your major or did it just happen by chance?
My major is currently IST (Information Sciences and Technology). I wasn't quite sure what curriculum I was truly interested in until about halfway through my high school career. I was always fond of working with computers so I decided to take a basic programming course. I enjoyed this course so much that I immediately knew that I wanted to pursue studying it further. Looking back, I don't think I would choose a different major if I had the opportunity. I thoroughly enjoyed the information I learned throughout my college career and continue enjoying IST as I apply my knowledge here at Pepperjam in a more hands-on setting.
We're assuming you had your choice of internship offers. Why did you choose Pepperjam?
I chose Pepperjam because I felt like this company would provide me the greatest chance to contribute and to learn and I hoped it would also give me the opportunity to provide my employer with the highest quality work I could produce. Pepperjam also carries a reputation of being a very respectable organization and this reputation enticed me to learn more and eventually apply for an internship.
Do you feel like you were adequately prepared for an internship? And if the answer is no or not really, why?
I absolutely feel like I came into this internship adequately prepared. Experience from my college education, a previous internship and various jobs allowed me to work well and fit in here at Pepperjam. Much of the credit also goes to my co-workers who have given me the tools and support to find success.
Is your internship what you thought it would be like? If not, what's different?
I came into this internship with an open mind and not many expectations and it turned out that the few expectations I had were absolutely blown away. I have never worked in an environment as respectful, professional and friendly as Pepperjam. I also never expected there would be so many opportunities to learn during an internship. I learn something new and valuable every day I am here and I absolutely enjoy it.
What is the most valuable lesson you've learned while interning at Pepperjam?
I feel the most valuable lessons I have learned at Pepperjam were gained through the experience of performing tasks that are required of a full-time associate. Doing associate-level work has provided me with knowledge of various responsibilities and skills that I will be able to apply to any job in the future.
What would you consider to be your dream job (if money or having an income didn't matter)?
Unrealistically, my dream job would involve me doing anything outside where its warm and sunny. I like to work with my hands and do any physical activity when I'm presented with the opportunity. Realistically, however, my dream job would involve me using my skillset and knowledge in a meaningful way. I always want to learn more and help more and I enjoy fully contributing to whatever company I work for.
Any general advice for upcoming interns (no matter where they choose to intern)?
My advice for any upcoming intern is to always be learning. No matter the job, you can always find ways to accomplish more when you know more. This doesn't mean you need to know everything at any given time; instead, find ways to improve upon what you already know. Put your best foot forward, try hard and you will find success.
Want to become a Pepperjam Intern?
Apply NOW for Summer 2018 at hr@pepperjam.com!