It's been a full year since my last tribute to all the moms out there. My girls; Lily, now 10 and Cora, now 7, are bigger, brighter, even more beautiful. They're also willful as the day is long. They still challenge everything I ever knew to be true in life—they still test the very fiber of my natural being. And they can still take me to church-giggle laughter and nearly too-tight squeezes in the blink of an eye.
They also still, at times, leave me alone screaming into pillows and cleaning up messes that were clearly assigned to them. They're also better at sass and walking away at the critical moment that I'm exacting a critical life lesson. But the lessons are actually for me.
Raising kids (tween daughters, especially) isn't easy. It isn't always pretty or fun or satisfying or even enjoyable. But it's a journey that given the chance, one I wouldn't change a single step of—no moment how bitter-sweet. And as I look at these near decade-old little faces, I realize how much of the good times stuck. They're amazing little humans and they will someday be cool, level-headed adults (what I consider to be my primary parenting job). And that makes all the perfectly imperfect moments worth it.
I hope to spend this weekend quietly snuggling with them both, watching Princess Bride for the 315th time, just taking it easy. There will be a massage in good time, but this weekend is all theirs.
So, hats off to all the moms out there! You made it through another successful year and you should treat yourself! And to help make my own Mother's Day a little extra special, I asked my friends and fellow moms at Pepperjam to share their special weekend plans…enjoy!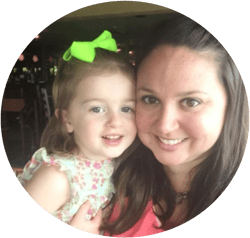 Alexis Eroh, Legal
Being a mom to a very curious and adventurous toddler, my ideal Mother's Day gift would be new lightweight luggage from Away Travel to make our travel adventures a bit easier. My three-year-old Emily and I love exploring our world! Whether it be a road trip on the east coast or a cross-country flight to explore the desert, Emily has proven at a very young age to be my favorite travel companion. Seeing new places through her eyes has given me new and exciting perspective of our planet. My hope for this Sunday is to create another adventurous family memory, even if that means simply taking a walk together through the local park and enjoying a brunch (with a mimosa for mom, naturally).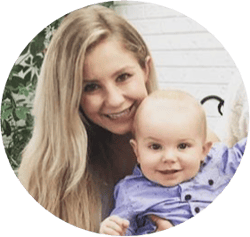 Mel Suppon, VP, Sales
My projected Mother's Day weekend plans are to spend time with my boys (Chuck, Cash and Bruna). If I had to say what I would secretly hope to get, it would have to be just a full night's sleep. It's been a while and I don't see that in the near future with a teething ten-month old!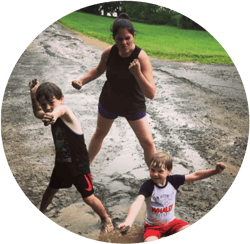 Amber Sweeney, Sr. Director, Affiliate
Mother's Day has always been about spending time together as a family. My ideal Mother's Day (and what's on the docket for Sunday!) is a big homemade breakfast followed by going to the local garden center to pick up some pretty plants to brighten the outside and then a family cookout to celebrate all the moms in the family.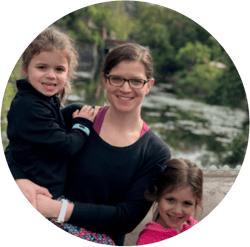 Mary Anzalone, VP, Product Development
I'm headed to Baltimore to spend some time with my mom on Saturday and then going to dinner with my mother-in-law on Sunday. My husband and kids have something fun scheduled for me sometime in between and I really hope that "something" involves a special activity that I can do with my girls.
But I have to say that my ideal day would be at the beach with my family. I would get to sleep in and then spend the day relaxing and reading a book while the kids play. I'd like to finish that up with a nice dinner. Oh, and my kids would behave perfectly all day and I wouldn't have to do any cleaning or wipe any mouths or well, you know.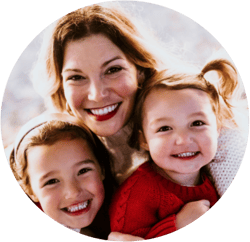 Audrey Mill, Partner Manager
This weekend, I'll be celebrating my oldest daughter's 7th birthday with a gymnastics party on Saturday. Sunday, I'll take the girls to church with my mom and grandmom, followed by a ladies' brunch and an afternoon trip to Knobels! I really hope there is no rain, so we can definitely do Knobels…I just love seeing how much fun the girls have there! Now, my ideal day would start with a yoga practice, followed by a Swedish massage and a night of live music at an outdoor venue (very excited for music festival season to kick off in NEPA!).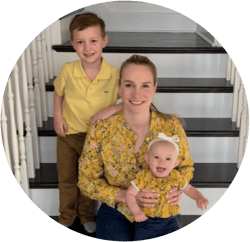 Maura Smith, SVP, Marketing and Communications
My Mother's Day weekend plans include getting a dumpster to clear the clutter out in my house then I'm heading to brunch with my family, mother and mother in-law on Sunday. I secretly hope that I get the gift that I've been wishing for, which is sleep. Even if it's for just 30 minutes. My ideal day would be to wake up, preferably after 7AM and snuggle with my husband and kids and dog while watching my TV show of choice. What a fantasy! (LOL!)