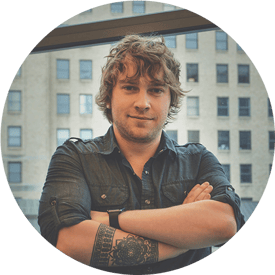 A few weeks back, I watched a webinar hosted by Zach Perkins, the Director of UX and Design at TaskRabbit, where he reviewed the specific steps you can use to foster design deeply into your company culture, measure success and continue to keep people excited.
He concentrated it down to the idea that designers are more than just products. Designers can directly contribute to the design of the company's culture—inspiring and educating their colleagues on the importance of design and great overall user experiences.
As a company who has put a focus on Design Thinking, I wanted to share some of the tips that I learned while peppering in some of my own.
One of the main issues with design thinking is typically getting everyone in the company involved when they may feel like they have nothing of value to offer and in turn, don't ever engage in the design culture. The key here is to make design a part of everyone's job and to promote the kind of innovation and creativity required to succeed. It starts with assessing what could be missing from your own company's culture. And while every business is different (read: you may already have a great design culture or you may not have one at all), the underlying techniques will always be the same.
There is also the misperception that you need to be a designer to help build and foster a design company—but that couldn't be further from the truth. It is, however, our role as designers to be the design advocates for your company.
It's incredibly important to have a solid foundation to build upon. You'll build excitement and inspiration throughout your team. To get people in the company involved, set up a way for everyone within the company to give their design recommendations/ideas. Make employees feel like they have a voice or they won't be as willing to commit and participate in the whole design mentality and culture. Since this can be difficult to measure, look at how you can utilize metrics to show how design culture makes waves in your company's performance. In other words, do you see less meetings, quicker turnaround times, enhanced traffic to landing pages, etc.
It's also crucial to understand that you need to create the inspiration to foster its growth, it doesn't just happen out of passive efforts. It's a lot easier to do that when you're discussing projects and have open communication with the employees around you. Get up and talk to them, throw ideas off each other and solve problems creatively. Opening this dialog helps you advocate that design thinking and design culture within your company. This is a designer's opportunity to explain how you're going to address things from a design perspective and show its true value.
The whole process of getting a design culture initiated can be complex, so where do you start when it comes to handling your peers?
Educate them
The easiest and quickest way to educate your peers is to include them in the design process. Letting them see the true process of the design team can help them understand how you really work. Showing them that process and teaching them why you're making certain decisions will help get them on board with your ideas down the road. If they know how you think, they'll be more willing to let you take your idea and run with it because they have a better idea of what the end product will be.
Encourage open lines of communication
How can you make this work in an everyday situation? How about scheduling a kickoff call or (even better) a face-to-face meeting to just talk about problems? It also helps to not jump to solutions right away but instead, understand how to approach the problem from the beginning.
Rely on real metrics
Lay out goals and metrics so you have measurable goals then start identifying the underlying problems of reaching them. Data and metrics can help you understand what the current issues may be. Put the non-designers in the driver seat so they can feel involved and contribute, in turn making them feel better about design and the entire design culture.
Actively engage/involve stakeholders
Use the problem that you're trying to solve and have everyone in the room sketch ideas. Don't let them worry about or focus on tiny details but just rough sketching. After a certain amount of time, everyone should stop and take turns presenting their sketches. After reviewing the initial concepts, have everyone go back to the drawing board and use the feedback to build out their ideas and concepts a bit more. This is inherently a designer's technique but even non-designers can learn so much from this process and how they're approaching the problem.
Identify trends in ideas
Once all ideas have been reviewed and discussed, you should start to identify trends that came up in the kickoff meeting. Designers naturally tend to identify trends and implement that concept into their work because of their understanding of trends and how they affect results. Collaborative design sessions that include designers, marketers and developers directly involved in the project, start to break down these walls that tend to grow naturally. Once this meeting is done, the feedback is shared with stakeholders. Try to move away from the "silo" mentality and be sure to keep everyone involved so they feel like they've contributed.
Share your inspiration
Even if it may be out of comfort zones, designers need to educate and engage with other employees. In general, designers tend to find inspiration all around them and save it to use for later. Unfortunately, inspirations are too often kept to the designers instead of shared. If you find a piece of inspiration, you need to share that! Take advantage of that morning coffee break when you're browsing online to get inspired by ideas that you see and share with those around you. Add pin boards to the walls so you can display some of your designs and have people display their own ideas or give feedback on the work that you have on the wall. This helps the collaboration from across the company as people can see the design work by simply walking around the office.
Create, learn, repeat
As you continue this process, you'll notice a great benefit of design culture is the fact that not only designers but marketers and developers are also part of the entire process—so everyone from start to finish knows where the project is going and what the ultimate goal is. This makes execution so much quicker and allows everyone to focus on their skill sets rather than deciphering information. Once we get to the end of a life cycle for a project, we'll have those goals and measurements for the initial scope and problems. That process can then be adapted to make sure that there's as much stability in future projects as possible.
Give credit for a job well done
At the end of a project, give shout outs and acknowledgements to the non-design members. People love feeling included and when they get recognition, they're more willing to continue helping the design culture and be more involved in future projects. This is how that culture gets nurtured and grows organically. The more frequently that these recognitions happen, the more it keeps the employees engaged. If someone gets recognition annually, it's great for the short term but over the long term, that can get lost. By continually fostering a design culture where you're rewarded for using these techniques, you can help grow that culture and employees are more likely to bring other peers on board as well: a win-win for all.